The latest interview with James Tupper aka Jack Slattery:
5 Questions With James Tupper
By Elissa Bass , Day Arts Editor Published on 2/15/2008

When we spoke with actor James Tupper at the end of January, the 13-week-long writers' strike was still going strong, and he had been on "vacation" for just a few weeks from his job starring as Jack Slattery on ABC's "Men In Trees," a dramedy about a New York City sophisticate who relocates to a small Alaska town to find herself.

The sophisticate in question is played by Anne Heche, a high-profile actress. Since meeting on the set two years ago, Heche and Tupper have set up housekeeping together.

Tupper was spending his downtime in California, auditioning for the lead role in an upcoming film version of "The Greatest American Hero," that superhero-as-a-fish-out-of-water show from the early 1980s that starred the curly haired William Katt. Katt played Ralph, a high school teacher who is given an alien suit that gives him superpowers, and he's supposed to help the FBI fight crime in it. For folks of a certain age, the show's theme song, "Believe It Or Not," is immediately singable.

"That was my nickname when I was a kid," Tupper says with a laugh. "I taught elementary school kids how to swim, and they would call me Ralph. I had curly blonde hair. So (the audition) is kind of funny and a little ironic."

"Men In Trees" is coming back with 11 new episodes, in yet another new time slot on yet another day of the week (this time, 10 p.m., Wednesdays, shoving the abysmal "Cashmere Mafia" out of the way). Tupper had plenty of time to answer five questions about the upcoming new episodes and how much his life has changed.

1. What have you been doing since the writers' strike shut down your set?
For the answer to this and the rest of the interview, go to this link: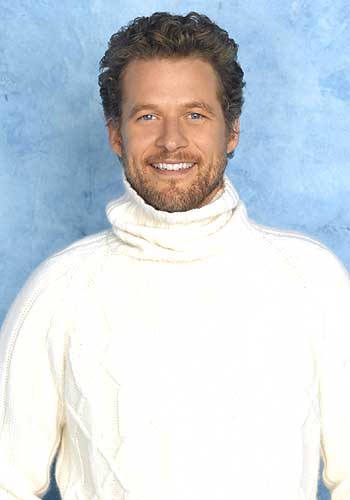 Just how sexy can Jack get???? He looks so yummy in this white knit sweater, doesn't he????