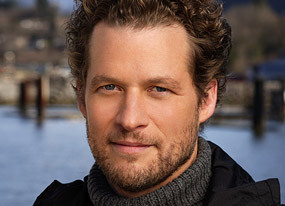 James Tupper (Jack Slattery)
Brought to you by TV Guide.
******************************
James Tupper Says He 'Adores' Anne Heche By Alexis Chiu
Originally posted Thursday March 08, 2007 07:55 AM EST
"Men in Trees hunk James Tupper's off-screen romance with costar Anne Heche didn't start until they were both single, he tells PEOPLE.

"The line," he says, "was never crossed."

Instead, the actor – who earned the on-set nickname "McTreemy" because of his heartthrob status among viewers – says he and Heche "really trusted each other almost right from the beginning" and leaned on each other as their respective marriages were coming to an end...."

To read the rest of the story, click on the link above.
~~~~~~~~~~~~~~~~~~~~~~~~~~~~~~~~~~~~~~~~~~
An Interview with James Tupper (Jack, Men in Trees)
McDreamy, McSteamy and now McTreemy -- modern day culture has adopted these cute names given to the hunky men of ABC's

Grey's Anatomy

and

Men in Trees

and we just can't seem to stop creating those McPhrases.

From his days spent immersing himself in African culture to working with wild animals on the set of

Men in Trees

,

James Tupper

is clearly a man who believes in living life to the fullest. I had the fortunate opportunity to chat with the very funny and incredibly sweet actor about life before acting, life on the set of his hit series and where the show is headed in the coming months.

Read the rest of the article at above link.
~~~~~~~~~~~~~~~~~~~~~~~~~~~
Men in Trees (recurring) Guest Cast: