Jenny Bicks & Anne Heche talk about Men in Trees
The star and showrunner of this ABC sitcom talk about the upcoming season Men in Trees is coming back to ABC with all new original episodes starting Wednesday, February 27. I was in on a conference call with the show's star Anne Heche and executive producer Jenny Bicks, and here's what both had to say about this new season.
To read the entire interview, click the above link.
`````````````````````````````
On Feb. 19, 2008, Emily Bergl aka City Fannn posted on the MIT message board. These are her words: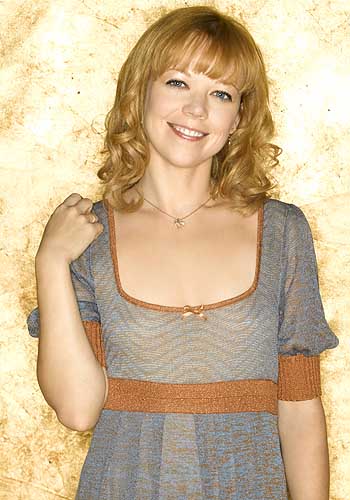 `````````````````````````````
I know that other cast members have expressed the following sentiment much more eloquently than I ever could, but please accept my thanks as well for your amazing support! We have all been so touched that our "little show that could" is being fueled by such grassroots support. You can't imagine how much it informs and inspires us, and I think I can speak for everyone when I say that we are honored to be the humble beneficiaries of fans who not only want to help our show, but others as well.

I will try to write a juicy blog for the new episode on tvguide.com. That is, if I can find a computer! I am about to embark on a build for Habitat for Humanity in Malaysia, so who knows, I might be blogging from outside a mosque or a temple!

On one of our last days of shooting, John Amos turned to me and said, "You know the last time I was on a show with this much love, Bergl? Mary Tyler Moore." It's so strong I think you all can feel it come out of the TV!

Let's keep our fingers crossed and our trees planted for season 3!
```````````````````````````````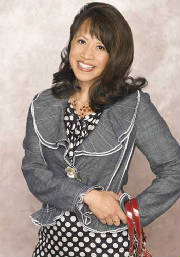 from Feb. 13, 2008 Lauren Tom signs in again

It's me again (Lauren Tom) feeling touched by all your responses to my first message! Geez, there is a definite Love fest going on here. Thank you for your sweet words.

So happy to see that my gal pals from the show have jumped into the message board too! My BFF, Cynthia Stevenson, (Chief Celia) would want to write as well but my nickname for her is Amish because she doesn't know about computers!

I just read Jenny Bick's blog, and she is right--our show getting a pick up really depends on how we do in numbers over the next few months, so please tell all your friends to check it out! We love making this show and we hope the ride continues.

Thanks again and Happy Valentine's Day! We really appreciate you.

xo,
Lauren
``````````````````````````````
This was posted by none other than Lauren Tom aka Mai Washington (above) this evening (1/30/08) on the ABC MIT message board:
We just got wind of what the fans on this board have been up to in support of our show--and on behalf of the entire cast and crew, I'd like to say a Huge Thank You for all your efforts.
Your creativity, generosity, time and hard work are very much appreciated, and beyond touching to us. You rock. We hope to be back in production soon. See you in Elmo.

Love, Lauren Tom (Mai Washington)
`````````````````````````````
This next one is from Michael Ausiello, TV Guide reporter. Read on.....
Jan. 16, 2008 by Michael Ausiello:
Question: Riddle me this, oh great Ausiello. Why, if there are many episodes of Men in Trees left, does ABC refuse to air them? With the TV landscape looking more and more barren, can't they at least throw us a little bone? --- DK
Reply from Ausiello: Your bone was delivered via press release a few weeks ago, and it looked a little something like this: Men in Trees will take over Cashmere Mafia's Wednesday at 10 pm/ET time slot beginning Feb. 27.
Best-case scenario, ABC keeps the show there until May 7, which is when its current 11-episode surplus will have been depleted.
But considering ABC's track record with MIT — 234 time slots in two years! — I'm not holding my breath.
``````````````````````````````
This one is from 1/28/08 - Michael Ausiello
Question: Have you heard about the action that Men in Trees fans are taking? We've been rather frustrated with the way ABC has chosen to handle this wonderful show — putting it on for a few episodes and then taking it off for months — that we've decided to donate money to
www.treesforlife.org
. For every $1 we donate, a tree is planted that will help feed the poor in impoverished countries. We are doing this in Men in Trees' honor. Once all the trees are donated, the certificates will be presented to Stephen McPherson at ABC. Could you help us get the word out about this campaign? — MITfan4ever
Ausiello: What are you waiting for, Ausholes, a personalized invitation?! Get busy plantin'!

The two posts (below) by Seana & Suleka were posted on the ABC MIT message boards on Feb. 12, 2008.
`````````````````````````````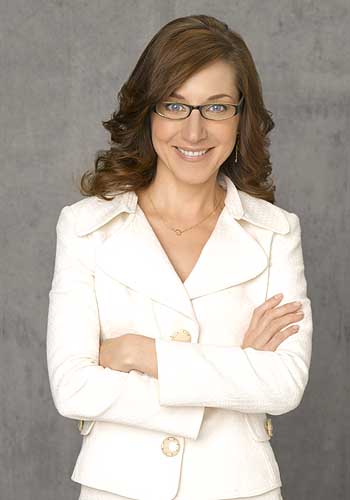 To the amazing fans of Men In Trees....

Where to begin? Well, for one, thank you. For keeping this excellent, lively message board going, for sharing your belief in the show with the network, and for having the patience of many, many saints! Most importantly, we thank you for making us proud. Don't get me wrong, crackers are great and peanuts are funny, but buying trees to provide food for people in impoverished nations?! I mean seriously, that is the coolest, classiest thing ever. Donating books to each other's schools, offering words of support, and cheering one another on as you go through your day? Men In Trees should thrive if only to keep these marvelous friendships alive! Your kindness and generosity toward the show and, most importantly, toward each other, has been an inspiration to us all. So! If we're not always responsive on the board here, it's only because we're aware of how engaging the discussions can be – you blink and an afternoon's gone! But know that we, too, believe in Men In Trees. We love everything you're doing on the show's behalf, we feel insanely fortunate to have such wonderful, dedicated fans, and you make us hugely proud.
Seana Kofoed
`````````````````````````````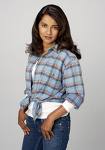 Hi from Suleka/Sara!
How lucky we are to have fans like you. Reading about this campaign that you have embarked on to buy trees that provide food, in honour of the little town we call Elmo is quite simply profound. What a magnificent gesture. I can only echo my dear friend Lauren's words in saying how grateful we are to have viewers that care, about all kinds of things. I'm including a picture i took recently of a tree from a wonderful albeit brief holiday I took with a certain television pastor, (who is now even more handsomely tanned). There was something about this tree that seemed kinda hilarious: tall, proud, bold, and just a little bit saucy, while standing up to the wind and the sea. Thank you again, for planting more of them in the world. You guys are amazing. See you wednesday nights at 10! (uhm, starting feb 27th!)
Best regards, Suleka
``````````````````````````
Important Words
Here's the start to a letter from Jenny Bicks, creator of Men in Trees - she posted it on the ABC Men in Trees Message Board.
Hey Tree Huggers--
Happy 2008!
Thank you so much for all the love and support you are giving the show as we all wait for it's return. I feel your pain, trust me. If I had to hear one more person over the holidays ask me, "hey, that was such a great show--will it ever be on again??" I was gonna lose it.
The deal is, we are scheduled to be back on with our new episodes on Feb 27. Wednesdays at 10 pm after Supernanny. That will be our new slot for the time being.
Click on the link below to read the entire article: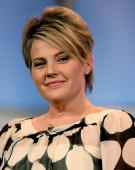 from January 16, 2008 - by Jenny Bicks: Hey Tree Huggers-- ``````````````````
Just Call Me a Men in Trees Hugger
By MATT ROUSH - TV GUIDE (03/05/08)
"If ever a show deserved a second (or third or fourth) look, it's ABC woefully mistreated Men in Trees. Tonight's episode, which plays almost like a season-opener in the way it resolves one major cliff-hanger storyline and reassesses a number of key relationships, is a terrific re-entry point for those who fell away from this charming show during its many inexplicably long absences from the schedule. (And the new Wednesday time slot does it few favors, with incompatibly cheesy reality-show lead-ins.)

This episode is titled "Sonata in Three Parts," a musical metaphor that movingly announces itself when one of Elmo's locals reveals an unexpected past. This character explains how a sonata plays out in three movements: the first generally upbeat and lively, the second a little darker (think Jack adrift at sea and feared dead) and the third taking you back to the beginning. "Things have a way of working themselves out," we're told.
And so it is in this episode, as the town maintains an uneasy vigil for any new news about the missing Jack, walking on eggshells around a distraught Marin (the terrific Anne Heche), who is projecting her anxiety onto hunky Cash and his current health problems. The theme of the week is regret, as each character takes stock of their life and decides to make every minute count. Not a bad mindset where a show on such thin ice is concerned.
My regret? That ABC appears to have permanently stalled any momentum this show once had, back in its truncated first season when it too-briefly aired alongside Ugly Betty and Grey's Anatomy, providing a delightful nightcap on a first-rate Thursday. I'm not sure anything can reverse its fortunes at this point, but don't let that deter you from getting back with Men in Trees, especially where tonight's intensely romantic episode is concerned. You won't regret it."

Feb, 13, 2008 Sarah Strange visited our lil' MIT community on the ABC
message boards. Another big WOW!!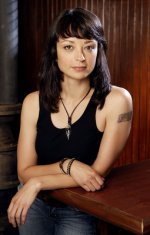 ```````````````````````````````
So, I was chatting with Suleka last night.
She told me to check out what you guys
have been up to lately and...
Wow. I'm overwhelmed.
Ultimately, MIT is a show about love.
Top to bottom, from script toair,
we love telling these stories.
Stories of love and loss and learning
from our mistakes..stories about
soul mates and forgiveness and family.
It's a magic town, Elmo.
It's full of surprises and belly laughs and
offers a welcome respite from what seems
like a world gone truly mad..We are so proud
that our little show has inspired you
to bold action.
This warm, generous community
that you've built; where people look out for
each other and try in their own way to make
the world better, it reminds me a bit of my
TV home town.
It proves that love is powerful
and far reaching. It shows how we're all the
same and have a responsibility to do good,
to do right by our fellow Earthlings.
It's heavy. I'm humbled. And grateful.
Happy Valentines Day, Guys.
Men In Trees loves you.
Word,
Strange xoxo
This isn't written by any of the cast members, tho' Suleka Mathew and Anne Heche are mentioned in the article, and so I thought you might want to read it:

Those fluorescent-orange signs still pointed the way to Vancouver film sets during the 14-week Hollywood screenwriters strike that ended with a deal this week.

[snipped for brevity]
But even after the Writers Guild of America signed with U.S. studios last week, Vancouver-shot U.S. TV series will take four to six weeks to muster the words to start filming again, after draining the dictionary during the strike. The debut season of The Bionic Woman hit the wall in November, a month short of its scheduled wrap, while other longer-running shows rolled into January.

"You find that in first-year series," says Hawkins. "Then you had Men in Trees, a mature series, they went on until late January before they shut down."

[another snip]
And while the DGC will have about 15 members on any given show, craft unions would field 100.

Among the shows that had their seasons cut short by the strike, the young Superman story Smallville is gearing up to film several remaining episodes starting in four to six weeks. Men in Trees is awaiting word on approval for a third season as the U.S. ABC network has put several already filmed, but unaired, second-season episodes on its schedule starting this month.

"We're crossing our fingers," says Vancouver actor Sue Mathew, a regular alongside American Anne Heche. Men in Trees has fought for a place on ABC's schedule, prompting a write-in campaign by fans.

"We had five leftover episodes from the first season, they started with them in the second season," says Mathew. "They went into reruns for all of December. In January, they didn't air any, so in February they're starting back with the fresh episodes that we filmed in the last few months."

A third season of Men in Trees would start filming in the summer.